Mumia Artikel Englisch
(Buchbesprechung) Mumia Abu-Jamal's Eighth Book: Writing On The Wall
Stellungnahme der Autor*innen Gewerkschaft der USA
Resolution to Save the Life of Mumia Abu Jamal from "Medical Neglect"
From the National Writers Union, August 11, 2015
Where as Mumia Abu-Jamal, an African-American journalist and former member of the Black Panther Party for Self-Defense, who was president of the Philadelphia Chapter of the National Association of Black Journalists, was sentenced to the death penalty in 1982 for allegedly killing a white policeman. The judgment was based on fraudulent court proceedings, including an incompetent lawyer who neglected evidence showing Abu-Jamal's innocence, a nearly all-white jury (which studies show often produces the same result as an all-white jury with a Black defendant), self-serving witnesses, and a biased judge, which show that Abu-Jamal is an innocent man who should never have been in jail in the first place and who is a political prisoner in Pennsylvania.
Lehrerin Marylin Zuniga aus New Jersey endgültig gekündigt
Lehrerin Marylin Zuniga aus New Jersey endgültig gekündigt, weil ihre Schüler*innen Gesundheitswünsche an Mumia geschrieben hatten.
Auch wenn die Bezeichnung "Cop Killer" falsch ist - Mumia Abu-Jamal hat den Polizisten Daniel Faulkner nicht ermordet und es gab und gibt auch keinen stichhaltigen Beweis dafür - zeigt sich in diesem Artikel des Independent (UK), was Unterstützer*innen von Mumia Abu-Jamal in ihrem Berufsleben an Repression in den USA widerfahren kann. Hier das jüngste Beispiel der am 13. Mai 2015 endgültig gekündigten Lehrerin Marylin Zuniga aus New Jersey:
Mehr hier...
Mumia Unterstützer*innen in den USA überlegen derzeit, wie die junge Lehrerin weiterhin unterstützt werden kann. Wir bereichten, sobald wir weitere Informationen erhalten.
Free Mumia - Free Them All! - english version
Here you find the new flyer about Mumia
Ein Bericht aus Mexico City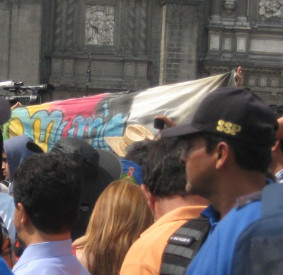 English Version see below..
Dort gelang es Unterstützer*innen von Mumia Abu-Jamal vor wenigen Tagen, mit einem Transparent und einem Protestbrief an US Aussenminister John Kerry heranzutreten, der in einem weitesgehend geheim gehaltenen Programm Mexiko besuchte. In dem Brief, den er an Obama zu übergeben gebeten wurde, forderten sie die sofortige Freilassung von Mumia.
Die Fotos sind von der Aktion. Die mexikanischen Unterstützer*innen merken an, dass offizielle US Vertreter*innen bei Reisen eigentlich überall auf der Welt an Mumia und Gefangene in den USA erinnert werden sollten...

Hello again all,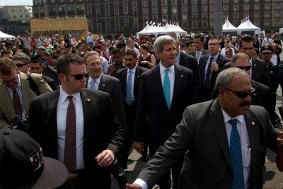 Well, back to John Kerry's visit to Mexico --as I've mentioned before, we don't think US government officials should be able to visit any city in the world without hearing about Mumia and other U.S. political prisoners. When they come here, we often don't know if they see us or hear us, but this time they definitely did.
As usual, John Kerry's agenda was kept secret until the last minute, but we found out he was going to be in the Mexico City Z&oacutecalo and were able to deliver a letter to him demanding that the Obama government push for Mumia's release. Before he got there, we'd tried to give it to a lady who seemed to be in charge of things, but she refused to receive it.
When he arrived, however, he saw our banner that we'd unfurled in the middle of a small crowd of onlookers (who'd all been given tiny American flags to wave) and also saw the letter two of our people were waving at him. He told the lady to accept it, and she did.
read more...
Education was supposedly the major issue of Kerry's talks with government officials and businessmen this time, but security is always on the agenda. So we concentrated on that in an article we published on several independent media sites, "Five Questions for John Kerry", concentrating on the security-related issues none of these officials ever address: mass incarceration, ICE detention centers, Guantánamo, solitary confinement and political prisoners. read more...
Bit by bit....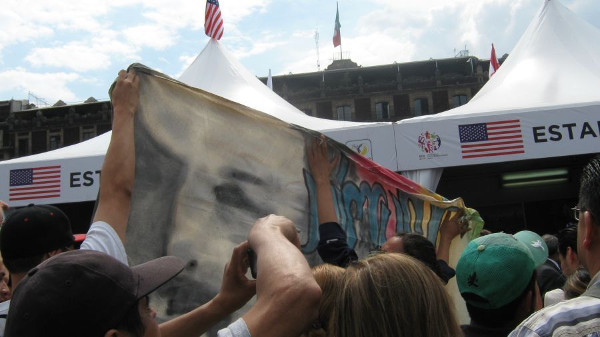 FREE MUMIA Press Conference at FOX Philly
You probably didn't see it on FOX or any mainstream media, but on Friday, January 17, 2014 a press conference was held outside the offices of FOX 29 (WTXF-TV) in Philadelphia. The purpose was to denounce the attacks of FOX analysts and the Fraternal Order of Police on Mumia Abu-Jamal and on Debo Adegbile, President Barack Obama's nominee to head the Justice Department's Civil Rights Division.
Speakers included Professor Johanna Fernandez, Pam Africa, Keith Cook (brother of Mumia Abu-Jamal), Ramona Africa and more.
Video mit Jamal Hart
Zweisprachiges Video von einem Filmgespräch, an dem Mumias Sohn Jamal Hart am vergangenen Montag in Berlin teilgenommen hat.
Jamal Hart Q&A after Mumia film LONG DISTANCE REVOLUTIONARY (Berlin, Germany - bilingual/zweisprachig) (13.01.2014)
Mexico Report on April 24 Activity
*Hi everybody, *
*So glad to hear about the strong campaign kickoff in Philly on April 24th . I'm sending some news and pics from the Mumia birthday activities in Mexico City. *
*After a couple of hours of rain, our rally outside the U.S. Embassy in Mexico City on April 24th started up with dancing and drumming, and we presented a new banner painted by long-time Mumia supporter, Aurelio. Right away two busloads of friends from San Salvador Atenco came in with strong solidarity messages from Ignacio del Valle and others. They consider Mumia an example and an inspiration and have always appreciated the fact that he spoke out in their support when the Mexican government unsuccessfully tried to keep Ignacio and Felipe Álvarez en prison for 112 and 67 years, respectively. *
*A message from political prisoner Alberto Patishtán was also read by his son Héctor. You may remember that Mumia wrote a piece in his support last October, "The State and the Schoolteacher". And this is the second message Alberto has sent in support of Mumia. The first was from the prisoners in the two collectives he has organized inside Chiapas prisons, La Voz del Amate and Solidarios de La Voz del Amate, and the second was his own personal message.*
*Several other solidarity messages were read, and a comrade spoke about the case of another Mexican political prisoner, Pedro Peralta, in Eloxochitlán, Oaxaca. *
*Eva Palma sang and spoke about Mumia's life and struggle. She is a cultural worker and the companion of Kuy Kendall, our comrade who was shot in the head with a "non-lethal" projectile in the December 1 protests against the inauguration of Mexican president Enrique Peña Nieto and is still unconscious in the hospital.*
*Jorge Salinas played the guitar and sang corridos, Luisillo and Andrés played the drums and recited poetry, Revolución Anónima rapped, and the reggae bands Luna Negra and Ollin Roots closed the event. *
*The night before the rally, the screening of COINTELPRO 101 prompted an interesting question and answer session with Claude Marks of Freedom Archives via Skype, organized by the Radio Zapote collective. And the day after the rally, we had a well-attended birthday party at the Che Guevara Auditorium.*
In struggle
Rebel Diaz: Free Mumia - Free Them All!
Life in Prison Is Not an Option
Stand With Mumia On His 59th Birthday In Philadelphia
Wednesday, April 24, 2013
Rally & March 2-6pm
Indoor Campaign Kickoff, 6:30pm- 9:30pm
We demand: District Attorney Seth Williams, Release Mumia Now!
The DA has earned the right to be our focus on Mumia's born-day. The Philadelphia DA's Office has a history of injustice and oppression: Ed Rendell 1978-1986, Ron Castille 1986-1991, Lynne Abraham 1991-2010, and Seth Williams 2010-present
From Mumia's arrest up until now, the Philadelphia DA's office has been a key player in the conspiracy to kill Mumia Abu-Jamal and later to keep him in prison for the rest of his life, despite extensive evidence of his innocence and of police, prosecutorial, and judicial misconduct in the case. Mumia should never have even been arrested, much less found guilty and sentenced to death.
End Solitary Confinement! End the Death Penalty! Reclaim Education!
End Mass Incarceration! Free All Political Prisoners!
Order $10 bus tickets now!
Call the Free Mumia Abu-Jamal Coalition NYC Hotline (212) 330-8029
For further details visit www.freemumia.com
Purchase bus tickets at:
International Action Center 2nd Floor
147 West 24th Street 2nd Floor
(212) 633-6646
By Mail, Make Check or Money Order out to: FMAJC/IFCO, Send to:
Free Mumia Abu-Jamal Coalition NYC
P.O. Box 16 College Station
New York, NY 10030
Departure at 11:00 AM
1199 SEIU Headquarters, 310 West 43rd St. between 8th & 9th Avenues
Riverside Church, 91 Claremont Avenue between 120th & 122nd Sts.
In the Philadelphia area, call International Concerned Family & Friends of Mumia Abu-Jamal (215) 921-8914 (Philadelphia Innocence Project)
Return trips to NYC from Philadelphia available for 6pm and 9:30pm