Mumia Artikel Englisch
PRESS RELEASE - New Evidence of Innocence Spurs 2 Court Filings for Mumia
>
From Mobilization4Mumia
Contact: Pam Africa 001 - 267-760-7344
Joe Piette 001 - 610-931-2615
PRESS RELEASE
NEW EVIDENCE OF INNOCENCE SPURS TWO COURT FILINGS FOR MUMIA ABU-JAMAL
September 9, Philadelphia - The struggle to free unfairly-convicted Mumia Abu-Jamal took a significant step forward on Sep. 3 when his attorneys submitted two documents to PA Superior Court .
Judith L Ritter, Widener University-Delaware Law School, and Samuel Spital, NAACP Legal Defense & Educational Fund, Inc. released this statement: "This week, Mumia Abu-Jamal filed a brief in PA Superior Court to support his claim that his 1982 trial was fundamentally unfair in violation of the Constitution. For example, he argues that the prosecution failed to disclose evidence as required and discriminated against African Americans when selecting the jury. And, his lawyer did not adequately challenge the State's witnesses.
Mr. Abu-Jamal also filed a motion containing new evidence of constitutional violations such as promises by the prosecutor to pay or give leniency to two witnesses. There is also new evidence of racial discrimination in jury selection."
Abu-Jamal has always said he is innocent and the new documents go a long way in supporting his case, undermining police and prosecution claims of how Philadelphia police officer Danny Faulkner was killed.
The filings are in response to the Dec 27, 2018 decision by Court of Common Pleas Judge Leon Tucker reinstating Post Conviction Relief Act (PCRA) petitions for the defendant. Tucker ruled Justice Ronald Castille unconstitutionally participated in deciding the appeals in the Pennsylvania Supreme Court after denying Mr. Abu-Jamal's motions asking for his recusal, creating an appearance of judicial bias.
The "BRIEF FOR APPELLANT" in support of his struggle to gain his freedom after 37 years in PA prisons re-opens the PCRA petitions as ordered by Tucker.. The "APPELLANT'S MOTION FOR REMAND TO THE COURT OF COMMON PLEAS TO CONSIDER NEWLY DISCOVERED EVIDENCE" ask the Superior Court that the case be sent back to the Court of Common Pleas "so that he may present newly discovered evidence."
Among the arguments resubmitted in the "BRIEF FOR APPELLANT":
Ineffective Assistance of Counsel -- Failure to make right argument because counsel did not know the law.
Brady Violation -- DA Withheld Evidence. Namely that Prosecutor said that he would look into reinstating the driver's license of key witness, Robert Chobert;
Rights Violation of 5th, 6th, and 14th Amendments -- DA manipulated key witness to falsely identify Abu-Jamal as the shooter.
Ineffective Assistance of Counsel -- Failure to retain ballistics expert when the trial counsel knew Officer Faulkner was killed by a .44 caliber bullet even though it was known Abu-Jamal's firearm was not a .44 weapon.
Batson -- Discrimination in jury selection that kept Black jurors from being sworn in.
Juror Misconduct - Several jurors violated court rules by conducting premature discussions, creating potential for prejudgment of evidence.
Basym Hassan, Philadelphia political activist, said: "The district attorney clearly violated Mumia's constitutional rights by withholding clear evidence that should have been exposed from the beginning. Throughout the entire process of Mumia's approaching the scene up until today's current developments, the law has not been applied as it was created - to get to the truth of a matter. Hopefully, Mumia will get a re-trial and the truth will finally get told. We await his release from hell."
Cindy Miller, Food Not Bombs - Solidarity and Mobilization for Mumia reminds us: "Does everybody remember on December 28, when current Philadelphia District Attorney Larry Krasner and his staff happened to find six boxes of evidence that had not beforehand been shown? That evidence is partly the reason for this new motion."
The "APPELLANT'S MOTION FOR REMAND TO THE COURT OF COMMON PLEAS TO CONSIDER NEWLY DISCOVERED EVIDENCE"
Miller refers to includes the suppression of evidence of improper prosecutorial interactions with the state's main two witnesses that were instrumental in ensuring Abu-Jamal's conviction. The motion charges that "Abu-Jamal's capital trial was fundamentally unfair and tainted by serious constitutional violations. Mr. Abu-Jamal respectfully requests that this Court remand the case to the Court of Common Pleas so that Mr. Abu-Jamal may litigate the claims arising from this new evidence."
Pam Africa: "Here's another example of why Mumia shoulda been home - an example of police and prosecutorial misconduct. That evidence has been there for years. It shoulda been in trial records but it was hidden. What else is hidden besides the few things that we have right here."
MOVE 9 member Eddie Africa said: "If they deal with this issue honestly, they'll have to release him because they know what they did was wrong."
Mumia, 65 years old, remains in SCI Mahanoy in poor health, suffering from severe itching and cirrhosis of the liver. He recently had cataract surgery in his left eye and is awaiting surgery in his right eye. He also has glaucoma.
Janine Africa, from the MOVE 9, said: "I just got released from prison after 41 years in May. I want to say everyone work hard to bring Mumia home so he can be taken care of and get proper medical care, and he don't deserve to be in jail from the beginning."
Mike Africa Jr added: "The pressure of the people, and of the power of the people is squeezing the evidence of Mumia's innocence out. We shall win."
(PennLive) Protestors come to central Pa. to demand medical care for inmate convicted of killing police officer (Jul 24, 2019)
Brief Medical Update on Mumia Abu Jamal
Artikel auf Deutsch (Übersetzung)...
"Like a Cheesecloth over both my eyes"
Mumia's visual impairment has rapidly progressed.
I reviewed Mumia's chart and saw the patient for a regular monthly f/u on Memorial Day 5/27/19
Mumia's suffers from multiple medical conditions including Glaucoma, (Open Angle) as well as Vitreous Detachment and Cataracts. This in addition to Cirrhosis, Hypertension, NIDDM, (Type 2 diabetes), Hepatitis C.
The patient reports being unable to read or write anything for over 5 weeks in March and April and although reporting improvement over the last 3-4 weeks given the over all clinical context:
Several Severe risk factors-positive family history, NIDDM, poorly controlled hypertension, Hx of Cirrhosis, as well as the demands of his profession as a journalist (incessant reading under conditons of poor lighting) and the increased stress typical of the correctional envirionment, it is nearly certain that Mumia Abu-Jamal will progressto near- total if not total Blindness within 2-4 years.
Immediate release on a Medical and Compassionate basis to his community and family would be the standard of care in this situation. The has indicated an extensive social network that would assist him in th of his release.
If a question of Public Safety is posed home confinement would be an acceptable alternative.
Full report to follow.
The patient Mumia Abu-Jamal gave permission to discuss his medical case publicly.
I will seek to personally visit District Attorney this week to discuss this medical need.
Best,
Peace,
Joseph Harris MD
Richter Tucker kritisiert Bezirksstaatsanwalt für Berufung gegen Mumia
Under Pressure, Yale Reblaw Conf Rescinds Keynote Ofer To Philly D.A. Larry Krasner
Instead Invites Political Prisoner Mumia Abu-Jamal
Signator attorney Anneke Dunbar-Gronke noted, "Krasner will go down in history as the well-meaning, "progressive" DA who opposed justice in the case of the Nelson Mandela of our time."
Contact: Felipe Hernández - Anneke Dunbar-Gronke - Nyle Fort
felipe.dhernandez@gmail.com - onnieg@gmail.com - nylefort@gmail.com
562-298-6712 314-255-4327 - 973-985-9038
FOR IMMEDIATE RELEASE - Feb.1, 2019
Under Pressure, Yale Reblaw Conf Rescinds Keynote Ofer To Philly D.A. Larry Krasner
Instead Invites Political Prisoner Mumia Abu-Jamal
Cambridge. Organizers of the Rebellious Lawyering (RebLaw) conference at Yale Law School rescinded a speaking invitation to Philadelphia DA Larry Krasner (see RebLaw letter below). The celebrated "progressive" DA was scheduled to be one of the keynote speakers at the 25-year-old conference on the weekend of Feb. 15-16, 2019. But earlier this week, a coalition of Harvard law students and lawyers wrote to conference organizers saying that Philadelphia prosecutors could not be counted in the tradition of rebellious lawyers. Their impassioned letter condemned DA Krasner's decision to appeal a recent court order that granted Mumia Abu-Jamal the right to re-appeal his conviction. The letter also challenged the notion that a prosecutor could hold that title.
In their letter to RebLaw, they said, "The so-called progressive Larry Krasner is hell-bent on keeping [Mumia's case] out of the appellate process. Larry Krasner was voted into office by the Black, working-class people of Philadelphia, but in the hour of truth, he has upheld the rulings of racist judges (in this case) and is doing the bidding of one of the country's most corrupt and homicidal police forces."
The signers added: "Prosecutors, those managers of the oppressive state, regardless of the rhetoric they may espouse during a campaign, should not be invited to speak at a conference for Rebellious Lawyering."
Signator attorney Anneke Dunbar-Gronke noted, "Krasner will go down in history as the well-meaning, "progressive" DA who opposed justice in the case of the Nelson Mandela of our time."
Harvard Law Student Felipe Hernández concluded, "The lesson here is that in the mind of a progressive DA, justice is doled out selectively and only when there is no real political risk involved. Thankfully the conference participants will hear from Mumia, an actual jailhouse lawyer-and pinnacle of rebellious lawyering."
Dear RebLaw attendees and comrades,
RebLaw 25 centers on a question: how can rebellious lawyers engage with our existing institutions and government? In other words, are there just and effective ways that grassroots movements can wield power through electoral politics?
In this spirit, we invited Larry Krasner, the District Attorney for Philadelphia, to serve as one of our keynote speakers. We invited a prosecutor to a Rebellious Lawyering conference hoping to foster a critical conversation about what place, if any, prosecutors should have in rebellious lawyering. Larry Krasner has spent the majority of his career as a defense attorney and civil rights lawyer, building solidarity with communities he has served. He has consistently challenged the power and credibility of law enforcement. Inevitably, prosecutors are implicated in the deep injustices of the system they serve. But as a DA, Larry Krasner has largely shown an admirable, if imperfect, new approach by using his office to challenge the morality and logic of incarceration and to divert police resources away from the project of controlling communities of color.
Given this record, we were disturbed to hear that DA Krasner will challenge the court decision giving Mumia Abu-Jamal the right to re-appeal his conviction of the 1981 death of a white Philadelphia police officer. Mumia, a longtime political activist and writer who has always maintained his innocence, spent decades on death row and is now serving a life sentence without parole. Mumia's case is marred by injustices, including clear evidence of systematic racial bias, political targeting, conflicts of interest, and police corruption. In short, Mumia's case illustrates many of the pervasive injustices that Krasner campaigned against.
Like many of you, we were immediately troubled by DA Krasner's decision when it was announced. Because this issue is so important-and because as RebLaw directors we strive to make decisions together, incorporating the voices of our communities-we waited to release this letter until we has a chance to reflect, discuss, and determine how to best advance the goals and values that RebLaw embodies.
We cannot understand how DA Krasner's decision in this case serves justice or the transformative vision that he ran on. We also hear and deeply appreciate the voices of the law students and activists calling on us to take action in response.
We have rescinded Larry Krasner's invitation to serve as a keynote speaker at RebLaw, and we strongly urged him to drop his appeal. We asked the DA, instead, to join activists in a conversation about the promise and perils of "progressive prosecution," including directly discussing his decision to appeal Mumia's court decision. The DA declined to take part in such a conversation.
It was communities of color who lifted up Larry Krasner to a position of power. He is obligated to respond to those same movements as he wields the power the community has vested in him. We are working with activists to craft programming that examines both Mumia's case and the successes and limitations of DA Krasner's regime.
We look forward to coming together with all of you at RebLaw.
In solidarity,
RebLaw 25 Directors
---
Here you can listen to it "Rebel Lawyers Speech by Mumia Abu-Jamal" (10:05)
Labor Action Committee to free Mumia Abu-Jamal
P.O. Box 16222
Oakland, CA 94610
February 11, 2019
The Labor Action Committee to Free Mumia Abu-Jamal congratulates the Rebellious Lawyering ("RebLaw") Conference on making the principled decision to disinvite Philadelphia District Attorney Larry Krasner from making the 2019 RebLaw keynote address.
The Labor Action Committee to Free Mumia Abu-Jamal (LAC) was founded in 1998. We have defended Mumia for twenty years since Mumia was represented by his second appellate team (Eliot Grossman, Marlene Kamish and Nick Brown), and a number of our founding members have defended Mumia from the very beginnings of his case. We base ourselves on the principle that Mumia was framed by a racist, capitalist legal system, and that militant class struggle action, through the labor unions and the mass mobilization of the working class, is necessary to win Mumia's freedom.
Examples of such class struggle action include the Oakland Education Association's (OEA's) city-wide teach-in for Mumia in 1999, which two LAC members initiated and coordinated against the opposition of the OEA leadership and the local NAACP. We also helped to organize the West Coast port shutdown for Mumia on April 24, 1999. The resolution for that action, which included a march of 25,000 through the streets of San Francisco, was introduced by LAC member and then-ILWU (International Longshore and Warehouse Union) Local 10 Executive Board member, Jack Heyman.
In 2016, as part of the successful international campaign to save Mumia's life when he was diagnosed with Hepatitis C, we worked with the OASIS Clinic here in Oakland to organize demonstrations at J.P. Morgan's annual biotech conference at the St. Francis Hotel, as well as at Gilead Sciences in Union City. As NUMSA (National Union of Metalworkers of South Africa) General Secretary Irvin Jim noted in a solidarity statement, on behalf of a membership of 340,000:
"The refusal of health-care [to Mumia] reminds us of the conditions we were put in under Apartheid prisons where sick detainees were allowed to die in very deplorable lonely conditions in solitary as part of the punishment for their role in the struggle."
We commend the students from Harvard University for their initiative and courage in calling to disinvite Krasner. However, given the critical importance of this present moment to Mumia's freedom, we have some additional remarks to add to theirs.
While we stand with all organizations who defend Mumia - including RebLaw - the LAC defends Mumia on the only position which is consistent with the evidence: that Mumia Abu-Jamal, just like Angela Davis and Huey Newton, was factually innocent of the murder of Daniel Faulkner, and was, in fact, framed. We do not say that Mumia deserves a new trial because he was denied "due process", or because of any procedural problems in his original trial. Instead, we say "Free Mumia!"
The argument that Mumia deserves freedom only because of procedural violations (whether committed by Judge Sabo, Justice Castille, or others) has existed in the Mumia movement for a long time. It has sometimes allowed organizations to softpedal criticism of the police, as well as prosecutors like Krasner. It has also resulted in excluding or sidelining Mumia from so-called "progressive" events and spaces.
The Fourth World Congress Against the Death Penalty, in 2010, comes to mind. At that conference, a memo was circulated calling for the exclusion of Mumia from the event, which was signed by representatives from, among others, Death Penalty Focus and the National Association of Criminal Defense Lawyers. That memo read, in part:
"The Abu-Jamal case, regardless of its merits, acts as a lightning rod that galvanizes opponents of abolition and neutralizes key constituencies in the cause of abolition. Continuing to give Abu-Jamal focused attention unnecessarily attracts our strongest opponents and alienates coalition partners at a time when we need to build alliances, not foster hatred and enmity."
The authors of that memo specifically wrote that the "alliances" and "key constituencies" they had in mind were "police, prosecutors and law enforcement experts".
Why is Mumia, then, a "lightning rod"? It is not just because he is accused of shooting a cop. Rather, it is because he is a self-proclaimed revolutionary.
Mumia first came around the Black Panther Party in Philadelphia in 1967, at the age of 13, and joined two years later. He says that he was "beaten into the Black Panther Party" by the police, because of their repression of black youth at events such as the student-led mobilization to rename Benjamin Franklin High School in Philadelphia for Malcolm X. Mumia also attended, in 1968, a demonstration in South Philadelphia to protest George Wallace, at which all the protesters were severely beaten by the Philadelphia police. Later, after the Panthers, he joined the MOVE organization.
Mumia's politics are not confined to the struggle for black liberation, though that is obviously important to him. A casual examination of his commentaries on fascism, the internal divisions in the British Labour Party, monopoly capital, or his seminal history of the Black Panther Party, "We Want Freedom," reveals a powerful, explicitly class-centered critique of international capitalism. Mumia is a thinker in the tradition of W.E.B. Du Bois or C.L.R. James - one who also has the power to move the masses.
The power of Mumia's voice, as a representative of a strata of the working class segregated at the bottom rungs of American society, is undeniable. And it is precisely because of that voice that those layers of society whose interests are represented by the police - and the prosecutors - will never permit his freedom. The only road to Mumia's freedom - and, in point of fact, the only reason he is even alive today - is mass organization.
In this particular moment in American history, there is a pronounced political polarization, with growth on both the Left and the Right. This has been expressed, on "our" side, in movements such as Occupy, Black Lives Matter and the emergence of "socialist" electoral candidates. This is a positive development, and it has resulted in progressives such as Krasner being propelled into positions of power with a mandate to "reform" the criminal justice system.
We criticize politics, not personalities. It is important to assess what role Krasner plays structurally. In the 1970s, in the heyday of the New Left, there were also "progressive" prosecutors and even "progressive" police chiefs. Such efforts, as we are already beginning to see, always eventually run afoul of the fundamental contradiction that a "progressive" prosecutor or police chief presides over that arm of the state apparatus which is tasked with social and political repression.
The same police who framed Mumia also clear homeless encampments, break strikes, disperse rallies and demonstrations and destroy social movements. Such institutions cannot, in the final analysis, be reformed.
We look forward to working alongside you and all groups and individuals who are struggling for Mumia's freedom.
In solidarity,
Jack Heyman, International Longshore and Warehouse Union, Local 10 (ret.)
Bob Mandel, Oakland Teachers for Mumia
Gerald Smith, former Black Panther
for the Labor Action Committee to Free Mumia Abu-Jamal
---
Here you can listen to it "Rebel Lawyers Speech by Mumia Abu-Jamal" (10:05)
DO YOUR PART TO FREE MUMIA
EVERY TUESDAY, CALL 001-215-686-8000 BETWEEN 12-2PM
AND TELL PHILLY DA KRASNER:
(Choose the one you prefer)
"Many people who worked tirelessly for your election feel betrayed. We knocked on doors, held fundraisers and gave our own money to support a "Just DA". We disagree strongly with your decision to appeal the Mumia ruling, in fact we condemn it. Retract the appeal! Release Mumia now!"
Or
"Your appeal of Black Judge Leon Tucker's ruling in favor of Mumia defends racist Judge Albert Sabo, who said: 'I'm going to help them fry the N-word'. He also put more Black and Brown men on death row than anyone else in the US. Retract the appeal! Release Mumia now!"
Or
"Mumia Abu-Jamal was convicted because the police tampered with and 'lost' key pieces of evidence; the prosecution manufactured evidence of guilt, suppressed proof of innocence and selected a Jim Crow jury, among other due-process violations. Krasner, your appeal of Judge Tucker's ruling defends those unjust practices. That's not what you were elected to do. Retract the appeal! Release Mumia now!"
Or
"Krasner, Black Lives Matter! Stop siding with the FOP and racist corrupt judges like Sabo & Castille and against a Black Judge, Leon Tucker. When you appealed Tucker's decision, you betrayed us and your own rhetoric about ending mass incarceration and wrongful incarceration. Retract the appeal! Release Mumia now!"
You can also flood the DAs office by Email: justice@phila.gov and Tweets: @philaDAO
On-line petition to Pressure Krasner not to appeal re Mumia Abu-Jamal
Here's an online petition to sign and share widely.
Don't Stand in the Way of Justice for Mumia Abu-Jamal! Don't AppealJudge Tucker's Decision!
Mumia Abu-Jamal has always maintained his innocence in the 1981 fatal shooting of Philadelphia police officer Daniel Faulkner. His prosecution was politically-motivated because of his Black Panther Party membership, his support of the MOVE organization and as a radical journalist. His 1982 trial and subsequent 1995 PCRA appeals were racially biased: the prosecution excluded African Americans from the jury; and PCRA trial Judge Albert Sabo, the same judge in Abu-Jamal's initial trial, declared, "I'm gonna help them fry the n----r."
On Dec. 27, Mumia Abu-Jamal won a significant case before Judge Leon Tucker in a decision granting him new rights of appeal.
Philadelphia District Attorney Larry Krasner: We call on you to do the right thing. Do not stand in the way of justice. Do not appeal Judge Tucker's decision.
As a progressive attorney you ran for Philadelphia District Attorney on a platform that included standing "for justice, not just for convictions." You promoted reviewing past convictions and freeing the wrongfully convicted. In Philadelphia, Abu-Jamal's frame-up stands out as the city's most notorious wrongful conviction.
We call on you to cease defending former Philadelphia DA and later PA Supreme Court Judge Ron Castille's now-discredited claim of impartiality. It was a people's movement that paved the way for your election – not the financial backing of the FOP or the establishment including judges like Castille.
Show your supporters that your campaign promises meant something. That your concern for justice extends to controversial cases your predecessors held untouchable. Allow Abu-Jamal to go forward with re-arguing his appeals, which Judge Tucker states "would best serve the appearance of justice."
JAN4 Twitter Storm for Mumia: #KrasnerDoRightByMumia
Join in to pressure so-called "progressive" Philadelphia DA Larry Krasner not to appeal a judicial decision just won by Mumia Abu-Jamal, so that he can finally proceed with his appeals.
Anyone with a twitter account just has to click on these links and it will take you to your own Twitter account with the wording already there, all you have to do is click Tweet. Both of these linked Tweets have a picture linked to them as well. The first has a pic of Mumia, the 2nd has a pic of a flyer for a rally to pressure Krasner in Philly on the 5th.
Please do this on Friday, January 4th. We need the numbers all on the same day to create the Twitter storm. These links can also be posted on your Facebook pages, web sites, etc. Just headline it "Twitter Storm for Mumia on Friday, January 4 - Click To Tweet"
Click to Tweet link #1: https://ctt.ac/cY4TC
#KrasnerDoRightByMumia @philaDAO Don't stand in the way of justice. Don't appeal Judge's decision allowing ex Panther Abu-Jamal to re-appeal! Judge says re-arguing Mumia's appeals "would best serve the appearance of justice"
Click to Tweet link #2: https://ctt.ac/cY4TC
#KrasnerDoRightByMumia @philaDAO Don't appeal Judge's decision allowing ex Panther Abu-Jamal to re-appeal. You campaigned on freeing the wrongfully convicted. Mumia's case Is Philly's most notorious Wrongful Conviction!
Philadelphia: You can lock up prisoners but you can't silence them
Open Letter to Mumia by Zaklin Nastic (German MP and Human Rights Committee)
Die deutsche Version ist hier zu finden..
Zaklin Nastic is a Member of the German Parliament. She works in the Human Rights Committee and is a member of the LEFT Party (Partei Die LINKE). On August 16, 2018 she wrote an open letter to Mumia with regard to his upcoming court date on August 30, 2018:
Dear Mumia,
For years I have been observing your fight, your activities from inside prison, your courage. In view of the events of 30 April 2018, I feel absolutely compelled to become part of a critical public and to step up observation at international level. The international community must raise its voice in protest at the human rights violations taking place in the USA. Your battle for freedom and the rule of law is also attracting attention here in Germany.
My political work is people-centered. Freedom and justice in solidarity, and individual and social human rights must be the cornerstones for the actions of politics and society.
Yet human dignity is being violated; your dignity and the dignity of people across the world, every day and in diverse ways. The time has now come to invest all our strength, all our insight and all our optimism in fighting at national and international level to safeguard human rights, despite claims that this cannot be achieved. Human rights include the right to rise up against injustice and oppression. You have proved this very clearly.
Together, we fight for an end to racist reality – not just within the prison industry – and for the abolition of the death penalty. "International solidarity" is not merely a hollow phrase; it is practical, empathic and is brought to life by the enduring work of local support movements.
We aim to bring about your release and the release of other prisoners. My thoughts and my commitment are with you and I hope that your appeal will be successful.
With very warm wishes from Germany
Zaklin Nastic
Member of the German Bundestag
It can be found online here...
(The Guardian) 'Intoxicating freedom, gripping fear'
Mumia Abu-Jamal on life as a Black Panther (July 30, 2018)...
Report from Mumia's Day in Court by Dave Lindorff
Philly cops get priority courtroom seats:
Mumia Seeks to Show Top State Judge Doubled as Prosecutor and Jurist Reviewing his Appeals
By Dave Lindorff, May 1, 2018
Mumia's Day in Court!
The question is will Mumia Abu-Jamal be granted a new trial?
Next hearing: Aug. 30th in Judge Leon Tucker's courtroom 11th fl. 1301 Filbert St. Phil PA
In these battles there is truth, there is the spin, and there is the amnesia the police want you to acquire. "I/am going to help them fry the nigger/", spoken by Albert Sabo, Mumia's trial court judge in 1982. Those are the words that the Fraternal Order of Police, our jack boot folks in blue, would like us to forget. They want us to ignore what everyone knows is at every level of the injustice system: invidious racism and corruption.
How could we forget the injustice system that produced Frank Rizzo and Lynne Abraham? We can not forget police officers in open court telling us during Mumia's PCRA hearing in 1995 "we should have executed him that night", quoted in the New York Times.
It is not a legacy, it is our reality. This is what Philadelphia's new DA Larry Krasner has to confront, expose, reform and ultimately abolish.
Remember this is a DA's office that right now has a long list of police officers they can not put on the stand because they are not credible. This is the DA's office that has Judge Ron Castille (the former DA who the U.S. Supreme Court ruled must recuse himself from these types of cases) on its board of advisors.
A Philadelphia common pleas court judge told me "Mumia is the past." Actually he is our future, because if there is no truth and justice there will be no reconciliation. Front, center, and central to Philadelphia's imprisonment binge and racist legacy are the cases of Mumia Abu-Jamal and the MOVE 9. The cops are holding on to these prisoners because their release will reveal and acknowledge the depth of the corruption in their ranks.
Check out these two dueling editorials from the Philadelphia Inquirer: Keith Cook (Mumia's Brother) and Maureen Faulkner (Police Officer widow).
(Mumia Abu-Jamal and Keith Cook 3/2018)
We must expect justice and demand that the District Attorney and the Courts take this first step towards freedom by immediately reinstating Mumia Abu-Jamal's appellate rights.
_Report From Courtroom of Judge Tucker 4-30-2018_
"In its failure to recognize that Ronald Castille played an active role in pursuing the execution of Mumia Abu-Jamal the new District Attorney's office headed by Larry Krasner, is failing to do what justice requires. It is continuing the position of his predecessors, to the satisfaction of the Fraternal Order of Police." Bret Grote, Esq. Abolitionist Law Center Legal Director
Yesterday Tracey Kavanaugh, the Assistant District Attorney assigned to Mumia's case appeared before the court. She represented to Philadelphia Common Pleas Court Judge Leon Tucker that the District Attorney's Office has conducted an extensive search and still has been unable to find the missing memo from then-DA Ronald Castille in which he sought updates on the status of every capital case from Philadelphia in early 1990. She also made clear that the new District Attorney for Philadelphia (sworn in January 2018), Larry Krasner, has kept the same position as his predecessor: that former District Attorney Castille did not have personal involvement in a critical decision in Abu-Jamal's case, and that the Philadelphia DA's office lead by Krasner opposes the pending Post Convcition Relief Application (PCRA) seeking reinstatement of Abu-Jamal's appellate rights. If these rights were reinstated he would be granted a hearing on whether there was sufficient cause to issue an order for a new trial on his criminal conviction. Mumia has spent 37 years in prison for the killing of a police officer in Philadelphia in 1981, a crime for which he has maintainted his innocence. He is currently serving a life sentence at SCI Mahanoy in Frackville PA.
Abu-Jamal's counsel, Sam Spital from the NAACP Legal Defense Fund, argued forcefully in court today that Ronald Castille did in fact make a critical decision in the Abu-Jamal case when he advocated to Governor Robert Casey in 1990, that the Governor should expedite the litigation in all capital cases by signing the death warrants at the soonest possible time.
Castille explicitly asked the Governor to do this in the case of Leslie Beasley, who was convicted of killing a police officer, to show to "all police killers that the death penalty means something in Pennsylvania." Mumia was still on direct appeal when Castille made this policy decision to enlist the Governor's support in expediting the litigation by signing of death warrants, meaning that it was the policy of Castille's office to seek the immediate signing of a death warrant upon completion of Abu-Jamal's appeal. We know Castille was actively tracking /every/ capital case in his office, including Abu-Jamal's, and vigorously defending the convictions and sentences and pushing for execution of each capital case defendant, including Abu-Jamal.
Counsel for Abu-Jamal are now permitted to take the deposition of former ADA Gaele Barthold McLaughlin, and will file an amended PCRA by July 9. The DA has been ordered to respond to that filing by August 9. The next hearing in this matter is scheduled for August 30 in Judge Tucker's courtroom in Philadelphia.
Cuando luchamos ganamos, When We Fight, We Win
Prison Radio www.prisonradio.org
Mumias heutiger Gerichtstag: Mumia Abu-Jamal's appeals hearing continued until August
Hier folgen erste Presselinks aus den USA von Mumias heutiger Gerichtsanhörung - die Anhörungsphase ist bis auf den 30. August 2018 ausgedehnt worden. Es ist also noch nicht entschieden, ob er endlich ein neues Berufungsverfahren bekommt. Weitere Infos folgen.
New articles on Mumia Abu-Jamal
Mumia Update - Here's What Happened in Court
Deutsche Übersetzung...
New Hearing in Mumia's Case set for 3/27/2018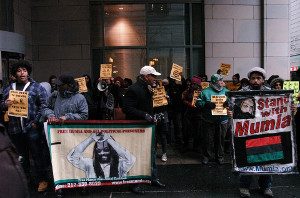 Judge orders New District Attorney to address his request to "find out what happened to the missing Memo by taking action," including a suggestion that they might depose the former ADA to get the answers." He noted that he would require a status conference on 2/26/18, to hear details of their efforts. "I do not want to have another hearing in two months, and be in the same place. These questions need to be answered."
Mumia Abu-Jamal, represented by Sam Spital of the NAACP and Judith Ritter, Professor at Widner, was in court in Philadelphia challenging his criminal conviction. Common Pleas Court judge Leon Tucker opened court with a query to the DA about his order that the prosecution produce testimony regarding a missing letter by former DA Ron Castille. This evidence, or evidence of a similar nature, could be a key to Mumia's criminal defense appeals being reinstated.
In the courtroom were Mumia's attorneys, Bret Grote and Robert Boyle, who represent Mumia in "Abu-Jamal v. Wetzel", as well as Ramona Africa, Claude Guillaumaud-Pujol, Jacky Hortaut of the Collectif Francais "Liberons Mumia", Mirrelle Fanon Mendes-France from the Franz Fanon Foundation, and over 100 others.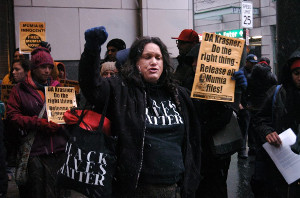 As many of you know, in January a new District Attorney Larry Krasner was sworn in. Representing his office, Tracey Cavanaugh (Interim Supervisor of the PCRA Unit) and Nancy Winkelman (Interim Supervisor of the Law Department) asked the Judge for a continuance, in order to allow the new DA and staff to review the 18 outstanding "Williams' cases" of which Mumia's is one. They also asked for time because they are seeking to "formulate an office policy for their approach to these cases". Certainly, a new approach would be welcome, given the intransigence of the previous office under now imprisoned former DA Seth Williams.
The U.S. Supreme Court precedent in William v. PA (2016) reversed the imposition of Terrence William's death sentence because former DA Ron Castille failed to recuse himself when he was sitting on the PA Supreme Court.
The order addressing the missing memo has a history. Judge Leon Tucker ordered the DA to turn over any evidence of former PA Supreme Court Justice Ron Castille's "personal involvement" in Mumia Abu-Jamal's criminal appeals when he was District Attorney or an Assistant District Attorney. When they could not "find" any documents, Judge Tucker ordered that they deliver to his office the entire file of 31 boxes. Judge Tucker found a reference to a specific letter written by Castille, which the DA states now that they have lost. This action follows in the wake of the U.S. Supreme Court admonishing the PA courts in the Williams case, for not recognizing that a judge must recuse themselves on cases they themselves actively prosecuted.
The parsing of concepts and words for the court revolve around "personal involvement". Was former DA and former PA Supreme Court Chief Justice Ron Castille a key shot caller on Mumia's case; was he "personally involved"? We know he personally signed years of briefs and appeals against Mumia. We know that this was the most high profile case in the office. And we know that information already released has Castille advocating to the then Governor Casey that the death penalty should be quickly imposed, especially for murders involving police officers as victims.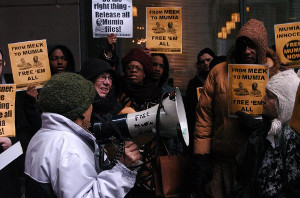 The question is simply, did District Attorney Ron Castille actively involve himself in decisions regarding Mumia's case? And did he, as a PA Supreme Court Justice, review those very same decisions? And if so, was he professionally required to recuse himself, or could he remain unbiased regarding those decisions? Some courts have even stated that any appearance of bias requires recusal.
At stake is the reinstatement of over a decade of Mumia Abu-Jamal's appeals. This action could lead to an order granting a new trial. The legal path to freedom starts right here in the Common Pleas court chamber of Judge Leon Tucker.
Cuando luchamos ganamos! When we fight, we win!
Noelle Hanrahan
Director, Prison Radio
www.PrisonRadio.org
Twitter
Facebook
To give by check:
PO Box 411074
San Francisco, CA
94141
Press Release - Dec 8, 2017 - Philadelphia (Presseerklärung)
PRESS CONTACTS: Joe Piette 610-931-2615; Gabe Bryant gabrielBryant.7@gmail.com mailto:gabrielBryant.7@gmail.com
"Have Black Lives Ever Mattered" is the name of Mumia Abu-Jamal's latest book but it is also the theme of events this weekend highlighting the struggle of prisoners in the US, including political prisoners such as Abu-Jamal.
First is a Teach-In on Friday, Dec 8, 6 - 9 pm at the historic Church of the Advocate, 1801 W. Diamond St in North Philadelphia.
On Saturday morning, Dec. 9, a crowd will gather near the notorious Rizzo statue at 1401 JFK beginning at 11am where a rally and march will demand that Pennsylvania "Stop the Murder of Mumia Abu-Jamal."
A third event is a Forum on Mass Incarceration (A2Z), 1:30 - 6pm at Arch Street U.M Church, 55 N. Broad St...
Friday evening panels and speakers include:
Confronting the Current Age of White Supremacy:
Dr. Karanja Carroll - Malcolm X Grassroots Movement, National Black United Front
Candace McKinley - Black Lives Matter - Philly organizer
Lamont Lilly - Durham, NC, activist, poet; 2016 Worker's World Party Vice-Presidential nominee
Megan Malachi - Philly for REAL Justice activist; educator
Nancy Mansour - Co-Founder, Existence Is Resistance; filmmaker, "Being Black in the Holy Land"
Mumia's Case: Now and Going Forward:
Pam Africa - Minister of Confrontation, Uncompromising International Family and Friends of Mumia Abu-Jamal; MOVE member
Noelle Hanrahan - Prison Radio; producer, "Long Distance Revolutionary: A Journey with Mumia Abu-Jamal"
International and Immigrant Solidarity:
Susan Abulhawa - Palestinian human rights activist; founder, Playgrounds for Palestine (NGO); author, "Mornings in Jenin"
Maria Serna - Colombian immigrant rights activist; Lucha pro Derechos (Fight for Rights)
Mike Wilson - Philly for REAL Justice, Worker's World Party
Saturday's Forum includes
Philadelphia civil rights attorney Michael Coard; Temple professor, writer, and activist Marc Lamont Hill; Akeem Browder, whose brother committed suicide in jail after being unable to afford bail; and Greg Brinkley, speaking on behalf of his nephew Kevin Brinkley, due to be released after having been jailed since 1977 for a crime he didn't commit.
Actions for Abu-Jamal are also taking place in several countries this weekend.
Members of the international community concerned with human rights, including Angela Davis and Danny Glover, are also signing on to a letter initiated by the Frantz Fanon Foundation in France directed to Pennsylvania Governor Tom Wolf and Philadelphia DA-elect Larry Krasner. The letter calls for compliance with recent court orders that the DA's office release all files relevant to Abu-Jamal's case. It further calls for Abu-Jamal's release from incarceration, citing mounds of evidence of his innocence and police, prosecutorial, and judicial misconduct. The letter also voices concern over the lack of timely treatment by prison health officials of his hepatitis C, which has left him with cirrhosis of the liver, posing a potential threat to his life.
PACK THE COURTHOUSE FOR MUMIA!
Judge Tucker has ordered an evidentiary hearing for Wednesday, January 17, 2018, 8:00 - 11:00 AM at Philadelphia Municipal Courthouse. Tucker has ordered the DA's office to show cause why it should not locate and produce Gayle McLaughlin Bartholdi, Esq., to present testimony regarding the content of the documents the DA's office says it cannot locate in reference to her memorandum to Ronald D. Castille on March 27, 1990.
Ronald Castille is a former Philadelphia District Attorney who became a PA Supreme Court judge. He refused to recuse himself when Mumia's case went to the PA Supreme Court despite having been the DA during Mumia's prior appeal.
The Supreme Court has since ruled that behavior unconstitutional in a different case where Castille did the same thing.
The people's movement forced the government to take Abu-Jamal off death row in 2011, but his freedom was not won – the state re-sentenced Mumia to life imprisonment without the possibility of parole.
When he came down with hepatitis C, the people fought for and won hep C treatment, but now he suffers from cirrhosis of the liver and he continues to suffer pain and severe itching from a skin ailment.
As with thousands of other prisoners, life without parole is still a death sentence, especially when decent health care is denied for people behind bars.
Sponsors include: International Concerned Family and Friends of Mumia Abu-Jamal; International Action Center; Free Mumia Abu-Jamal Coalition (NYC); Campaign to Bring Mumia Home; Educators for Mumia Abu-Jamal; Mobilization to Free Mumia Abu-Jamal, Food Not Bombs - Solidarity
Freedom for Mumia - Freedom for All!
December 9, 2017, will already be the 36th anniversary of the arrest and incarceration of the former Black Panther and African American journalist Mumia Abu-Jamal. The struggle for his freedom also stands for 36 years of struggle against racist police violence, political repression, the death penalty, and mass incarceration in the United States. At the core of the struggle for Mumia's freedom is the struggle to overcome a slavery that has never really ended and exercises its modern form in the guise of the prison industry of the country. Much was achieved in the years that have passed: We could avert for good the execution of Mumia's death sentence. It turned out to be possible to attain medical treatment for Hepatitis C for Mumia and hundreds of other prisoners in the State of Pennsylvania. Currently, Mumia and the movement are fighting for the reconsideration of the deeply flawed trial that led to his false conviction in 1982. At present, one special focus in these efforts is on files of the District Attorney's Office that the prosecution illegally refuses to hand over to the defense.
MUMIA - You Will Never Walk Alone!
Rally on Saturday, December 2, 2017 - U.S. Embassy - 2 PM
U.S. Embassy, Pariser Platz 2/Brandenburger Tor - 14195 Berlin-Mitte - U+S-Brandenburger Tor
Free Mumia Now! Stop the DA Office's Cover-up!
July 7, 2017 - Rally & March for Mumia in Philadelphia, PA, USA
July 7: MARCH & RALLY! 12 noon at the DA's office across from City Hall
On May 30, the Philly DA's Office brushed off a judge's order to release all records of former DA Ron Castille's involvement in Mumia's case.
It follows a landmark US Supreme Court decision that ruled judges MUST remove themselves from any case they had a hand in prosecuting. There are 14 prisoners fighting similar appeals. Mumia is one of them.
Ron Castille was assistant Philly DA during Mumia's 1982 trial and the city's DA when his office opposed Abu-Jamal's appeals in 1988. When Mumia's case reached the state's highest court, his lawyers challenged now Judge Castille to recuse himself, but he refused.
Under court order, the Philly DA's office released a paltry 50 pages of public record, continuing the outrageous cover-up. The judge's latest order gives the DA until July 7 to comply.
Keep the pressure on! The people forced the courts to take Mumia off death row!
THIS FIGHT COULD WIN HIS FREEDOM!
CALL NOW!
First Assistant District Attorney Kathleen Martin at 001 - 215-686-8000 with this message:
"I'm calling regarding Judge Tucker's ruling about discovery in Mumia Abu-Jamal's appellate cases. The DA's office needs to release all of his files immediately."
Mobilization4Mumia@gmail.com , 001 - 215-724-1618; in New York, 001 - 212-330-8029
Urgent Press Release on Mumia Abu-Jamal
April 2, 2017
Contacts: mobilization4mumia@gmail.com
Joe Piette: 610-931-2615
Mumia's Treatment Expected, But *_Not Yet_* Delivered
Delayed Hep C Treatment Leads to Death
On March 31, 2017, Mumia Abu-Jamal received a cruel mix of bad and good news from a prison doctor. The doctor shared the results of his recent lab test, which showed clear signs of cirrhosis, an irreversible scarring of the liver caused by his untreated Hep C. The doctor also informed Mumia that he would be treated with the Hep C cure within a week
The impending victory was bittersweet. Mumia shared his feelings with those he called that morning. His rare expression of emotion was also captured in an interview interview... that evening in which he stated: "My first reaction was really shock, anger, disbelief. If I had been treated in 2015, if I had been treated in 2012 when they say they first diagnosed it, I wouldn't be this far advanced. ...For a lot of guys and a lot of gals inside the Pennsylvania prisons, I think it is a step forward and a great day, but I assure you I don't feel that way right now."
The Pennsylvania Department of Corrections' apparent concession to treat Mumia with the Hep C curewas achieved through an agonizing two-year battle waged in the streets and through two court suits. However, Mumia has *_not yet been treated_* and will not be without our vigilance and continued protests.
If he is treated immediately, Mumia can expect to return to good health; but patients who have developed cirrhosis are more susceptible to developing liver cancer in the future and have to be monitored for the rest of their lives.
In the face of Mumia's battle for humane medical treatment, the PA DOC had adopted a retaliatory posture and accelerated its efforts to silence and kill Mumia by delaying treatment. Because of the failure to treat his Hep C, over the last two years, Mumia fell into a diabetic coma, experienced severe brain swelling, and suffered a painful skin condition that disfigured his body. In the last year, he and others in the prison have been forced to bathe in and drink water that is often visibly contaminated - "black and turbid," as Mumia put it.
Many of Mumia's supporters around the world believed that Mumia received treatment back in early January 2017 because a federal judge rdered the DOC to provide it. But a stubborn and stonewalling PA DOC refused to comply with the ruling. The judge ordered Mumia's immediate treatment citing the unconstitutionality of the PA DOC's Hep C treatment protocol. The judge denounced the DOC, whose protocol "deliberately delays" treatment with the standard Hep C cure until the prisoner experiences bleeding of the throat, among other deadly symptoms. The decision cited eight amendment rights violations prohibiting cruel and usual punishment.
The ongoing foot dragging by the PA DOC was confirmed this week. On the same day that the prison doctor delivered the news to Mumia, PA DOC attorneys filed a scandalous motion in court. They asked the judge to dismiss Mumia's legal health suit on the basis that the DOC had decided to treat Mumia under the guidelines of pre-existing HEP C treatment protocol —the same protocol that the judge previously declared "unconstitutional."
These arguments demonstrate the DOC's attempt to undermine the legal implications of Mumia's legal suit and the DOC's own misconduct. When Mumia is finally administered the cure, his treatment will establish precedent for the treatment of thousands of PA prisoners with Hep C, as well as people on the outside who can't afford the medication. Mumia's battle has exposed the deadly crisis of medical care in the prisons and the barbarism of the U.S. for-profit health care system that charges 90K for the Hep C cure.
As history shows, a judge's ruling does not ensure its implementation, especially when it challenges ruling interests. For this reason, we are asking you to take action and demand immediate Hep C treatment for Mumia, for the more than 700,000 prisoners with Hep C across the country and the millions suffering with the untreated, deadly disease outside the prison walls in our neighborhoods.
This moment has also created an opportunity to uphold Mumia's innocence and fight for his freedom. On Monday, April 24, 2017, the day of Mumia's birthday, his attorneys will challenge his conviction in the Philadelphia Court of Common Pleas. We are calling on you to join us at the courthouse and in the streets.
On April 24, his conviction attorneys, Judith Ritter and Christina Swarns (NAACP Legal Defense Fund), will take advantage of the recent Supreme Court ruling in /Williams v. Commonwealth/ to show how judicial and prosecutorial bias in all of Mumia's state appeals have kept him behind bars. This important Supreme Court ruling determined that a judge cannot fairly adjudicate an appeal of a case for which he/she has previously had a personal role in a significant prosecutorial decision.
In Mumia's case, Judge Ronald Castile, the same judge under scrutiny in /Williams v. Commonwealth/, also was the elected Philadelphia District Attorney responsible for the arguments made to the Pennsylvania Supreme Court in 1988 to uphold Mumia's trial conviction and death sentence. Castille had also been a high-level assistant DA during Mumia's trial. After he was elected to the PA Supreme Court in 1994, he was involved in deliberating and denying all of Mumia's state appeals against the decisions of "hanging judge" Albert Sabo and Pamela Dembe who upheld Mumia's death sentence and denied him a new trial during multiple appeals between 1998-2007. These judges denied a new trial despite Mumia's innocence, that evidence of his guilt was manufactured by the police and prosecution and that he had been denied virtually every due process right and protection owed under the U.S. constitution.
During the appellate filing, Mumia's attorneys asked Judge Castille to recuse himself because of this bias, citing also the judge's close relationship with the Fraternal Order of Police (FOP), which lobbied for Mumia's conviction.The FOP funded Castille's bid for the Pennsylvania Supreme Court and honored him as "Man of the Year." In response to Mumia's attorneys, Justice Castille responded stridently that he would not step aside,noting that he should not be singled out because five of the seven judges of that Pennsylvania Supreme Court were also supported by the FOP. It is no surprise that the court did not find one single error in the original court proceedings and thus upheld hisdeath sentence and denied Mumia the right to a new trial.
We demand the immediate release of Mumia!
We are calling on you to do two things
Call the DOC to demand immediate treatment for Mumia and all PA prisoners with Hep C:
PA DOC Secretary John Wetzel, (717) 728-2573
Email: ra-crpadocsecretary@pa.gov
(Twitter) @johnewetzel * @CorrectionsPA


Join us in Philadelphia on Monday, April 24, 2017 at 8:30 AM, at the the Philadelphia Court of Common Pleas to assert Mumia's innocence and call for his immediate release.
Center for Criminal Justice
Courtroom 1101
1303 Filbert Street
Philadephia, PA
Signers in solidarity,
International Concerned Family and Friends of Mumia Abu-Jamal
MOVE
Campaign to Bring Mumia Home
Abolitionist Law Center
Free Mumia Abu-Jamal Coalition (NYC)
Educators for Mumia Abu-Jamal
Committee to Save Mumia Abu-Jamal
Mundo Obrero/Workers World
Philly REAL Justice
Sankofa Community Empowerment
Millions for Mumia/International Action Center
Mobilization to Free Mumia Abu-Jamal/Northern California
Le Collectif Français "Libérons Mumia"
German Network Against the Death Penalty and to Free Mumia Abu-Jamal
Amig@s de Mumia de México
Saint-Denis Free Mumia Committee